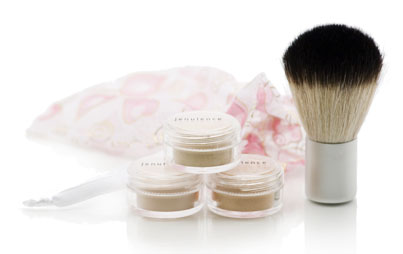 "If you can't eat it you shouldn't be putting it on your skin." Or so the saying goes at Jenulence, a small family run cosmetics company dedicated to completely natural, toxin-free make-up. It is water and sweat-resistant, hypoallergenic, doesn't clog the pores, delivers complete sun protection and is 100% cruelty free. Blah, blah, blah - yeah, it makes you look pretty too!
WIN THIS MAKE-UP KIT!!!
The kind people at Jenulence are giving away a starter kit - 2 shades of foundations, a finishing powder and an all-natural brush, to one of you "earth-friendly" gals. Just drop me a comment and I'll consider you entered. Yup, any 'ol comment will do. I'll announce the winner on Friday. GOOD LUCK!!