Sustainability is all well and good, but for this girl, prettiness can be equally important. Luckily, there are shops that seamlessly combine the two qualities. Currently, I'm a bit (okay maybe more than a bit) obsessed with glassware from Branch. The obsession started with their off pitcher. Each one is handmade resulting in a wonderful variety of forms. I want 7 of them to line my mantel. Next my magpie eye was drawn to the pretty colors of their slumped vases(above).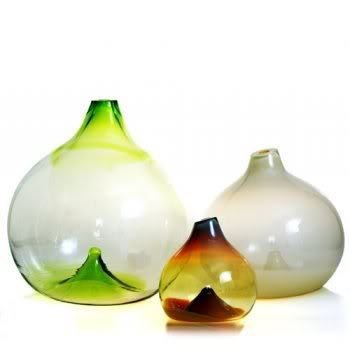 The form of the water drop jugs is pure art.

And how handy would this off pitcher and cup be? Particularly for those of us who frequently wake up to their kitty helping herself to any glasses of water left by the bed.
All this prettyness is made from recycled glass which is processed in an electric furnace powered by wind energy. I love combinations like that! Of course, the price of these items is a bit steep for your average non-big-bucks-making girl. However, maybe I can save my pennies and be content with just one amazing off pitcher.