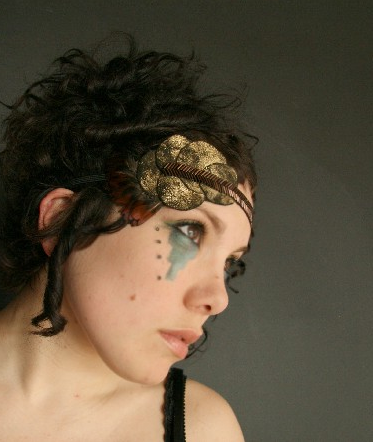 Life is full of perplexing juxtapositions and random ironies. Nutrition facts at McDonald's, braille at drive-through ATMs.

     But despite the name, KittinHawk accessories are not moronic — oxy or otherwise.

     The one-of-a-kind jewelry is handmade from vintage and recycled materials. Designer Allysun Dutra derives inspiration from everything from flappers and animals to film noir and Marie Antoinette, resulting in a Victorian-meets-punk feel.

     Shoulder-sweeping earrings combine spotted feathers and dangling crystals. Charm necklaces are adorned with vintage cameos. A collar combines fur and draped chains. Demure headbands — especially the number with a pale yellow bow atop a veil of netting — are part little girl, part siren.

     I haven't been this excited about feathers since Dumbo.