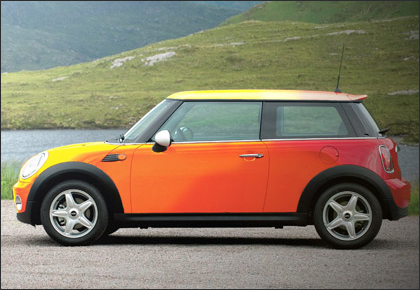 Called the MINI Chameleon, this innovative design from BMW actually changes color according to weather conditions. On a rainy day, the car's paint brightens to improve visibility while on a sunny day, it lightens to reflect heat and cool down the vehicle. No CO2 emitting, AC blast necessary!
   The color-morphing technology was made possible due to a special treatment called FeintPaint by Spanish company Payola Forlids. The paint comprises tiny magnetic iron oxide particles which can interact with a low grade magnetic field to change the spacing of the particles, and hence its ability to reflect light and change color.
   The color changes take effect in seconds, and should be quite a sight to behold! Unless of course, you live in San Francisco (aka MINI-land) where I imagine attempting to find you ever-changing car amidst a sea of look-a-likes would pose a real challenge.